Murdoch: arrogant, pompous and self-deluded.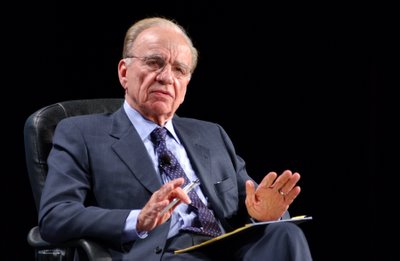 Oh, the joys of being a media billionaire. No one respects you, according to Mr Rupert Murdoch. In a interview with the Press Gazette, now run by a certain Piers "Morgan" Moron, a former editor of the News of the Screws, he lashes out at nearly everything and everyone in a Mr Burns-esque way, saying that no one loves him or understands him.
His influence extends across the globe: from Fox in the US to Star TV in Asia, and the Sun and Sky in the UK. He is courted by presidents and prime ministers, and his personal fortune is estimated at $7.8bn, or £4.53bn. But Mr Murdoch still does not feel he gets the respect his achievements deserve, using his first British interview in five years to complain about the "resentment" he inspired at the BBC and the "establishment forces" ranged against him.

In the interview with the trade magazine, Press Gazette, Mr Murdoch said that his bloody showdown with the print unions in 1986 over his decision to sack them overnight and move to then state-of-the-art presses at Wapping had been an "absolute turning point for Fleet Street and the whole of the newspaper industry". As the first private firm to take on the unions and win, it secured the future of many of his rivals which would have otherwise gone to the wall.

"I'm certainly very, very proud of it. And it'll be part of my legacy. It was only 20 years ago, but people are already forgetting it," he told Press Gazette, now co-owned by his son-in-law, PR man Matthew Freud, and celebrating its 40th anniversary this week.

Mr Murdoch, whose News International division owns the Sun, the News of the World, the Times, and the Sunday Times, said that it was because he had been "fairly radical" and "an agent for change" that his achievements were not appreciated by his peers.

He said there were "three or four major benefits that I've done in Britain": breaking the hegemony of the unions at Wapping; "introducing competition in the popular press" by taking on Hugh Cudlipp's Daily Mirror with a revitalised Sun in 1969; "dragging the Times into the modern age" since buying it in 1981; and launching Sky television in 1989.

It was the success of the satellite broadcaster, which dominates the pay-TV industry and has almost 8 million subscribers, that so infuriated his enemies, he claimed. "Sky put the whole of the broadcasting establishment against me, and particularly the BBC. They had 240 people in their public affairs department at one stage who did nothing but lobby for legislation against Sky, and were a constant pain," he complained. Mr Murdoch has long been dismissive of the BBC's right to licence fee funding, and scathing on the UK's regulatory environment, despite rule changes that have worked in his favour over the years. "Sky is doing very well. It will do a lot better. And as it does, the resentment from the establishment forces will only grow stronger," he predicted of the firm 37%-owned by News Corp and run by his son, James.

Mr Murdoch has a close relationship with New Labour. Tony Blair assiduously courted him before he became prime minister; in a memoir of his time as Mirror editor, Piers Morgan (who also now co-owns Press Gazette) said No 10 frequently tipped off the Sun before rivals.

Mr Murdoch predicted that the Tory leadership race would result in a stronger Conservative front bench, leading to some "interesting politics". He declined to be drawn on whether his titles would switch their support to the Conservatives in time for the next general election, but his right-hand man, Irwin Stelzer, has gone on record with his misgivings at the prospect of Gordon Brown as prime minister.

Most have assumed that James, who, despite the nepotism controversy that surrounded his appointment, is seen to have done a good job during his two years at Sky, is in pole position to take over from his father in due course. But Mr Murdoch Snr hinted that Elisabeth, who is married to Mr Freud, and left Sky to launch her own independent production business, and Lachlan, who acrimoniously parted from his father's company earlier this year, would return to the family firm.

"I don't think I've heard of any heir to a newspaper company who ever wanted to walk away from it. Children of major media people - generally, I wouldn't say universally - want to be part of it," he said.
Let's just start with his three or four "major benefits" that he's brought Britain. First off the bat is his breaking of the unions, when he sacked the lot of him and moved to his at the time revolutionary printing presses. Before then, print unions it has to be said were a troublesome lot. They were quick to strike and they occasionally refused to print some material, such as an infamous Sun front page which depicted Arthur Scargill as Hitler. But at this time the unions were under incredible pressure already, as the Tories passed more and more draconian legislation that effectively destroyed trade unionism in this country. It has yet to recover, and probably never will. Some may say this is and was a good thing. Others would disagree. While Murdoch was a trend-setter, he was no means the revolutionary who broke the unions back.
Second then is his taking on of the Daily Mirror under Hugh Cudlipp, when he bought the Sun in 1969. The Sun responded to the Mirror by going further down-market; the creation of page 3, sex scandals and treating politicians, especially Labour and the unions with contempt. As the sales of this new Sun rose, the Mirror, which although populist always has retained some serious high-brow journalism, followed the race to the bottom. It introduced its own Page 3, now long since thankfully removed. It went through the distressing period of having Robert Maxwell as its owner, who plundered the pensions fund. In short, a home for the working class consciousness outside the unions was largely destroyed. The Mirror has never recovered, despite many re-launches. It now sells less than 2 million copies a day, compared to the Sun's 3,300,000. The shame is that the Mirror's journalism has always been far superior to the Sun's, breaking many more important stories and scandals than the Sun ever has. Yet thanks to Murdoch's race to the bottom which he refers to as competition, the British tabloid press is now rightly seen as one of the most grotesque in the Western world. It isn't called the Street of Shame for nothing.
His third claim is of dragging the Times into the modern age since buying it in 1981. Well, he certainly has done that. What was once the house paper of the establishment is now a shadow of its former self. Transformed recently into a tabloid with little debate and angering a lot of readers, it has along with the Telegraph moved more into the realm of the Daily Mail than the serious broadsheet it once was. Its once highly regarded editor, Simon Jenkins recently jumped ship to the Guardian. Its banner above the masthead once this week was "HOW TO IMPRESS HER IN THE KITCHEN". As commented on, it was something you would have thought unbelievable to be in the Times. As for the Sunday Times, beloved and heavily rewarded at one time for its serious and hard-working investigative journalist team, Insight, it is also a shadow of its former self. While it continues to sell well, again the competition now comes from the left-of-centre papers, with the Observer and Indie on Sunday being felt superior, despite smaller sales. The recent imposition of Sarah Sands as editor of the Sunday Torygraph has led to it being renamed the Sunday Tottygraph and Sunday Hellograph, especially due to its apparent attempts to gain female readers through its new magazine Stella. The serious journalism of the past has been replaced with the tracking of desperate women who have gone to Spain to get late-term abortions unavailable here, with moralism ringing from its every ink-stained letter. The less said about Murdoch's other newspaper, the News of the World (Screws) the better.
His last claim to lasting change in Britain is his launching of satellite television in Britain as Sky. While it has undoubtedly brought benefits to Britain, with easy access to 24-rolling news channels and specialist channels unavailable to the average person with a TV licence who can get 5 channels, it also brought plenty of trouble in its wake. It can be argued that the buying up of all the rights to showing football games, especially in the top division, has led to the game becoming filled with overpaid players, watched only by those who can afford it. Tickets to games now start at around £20 a piece. The huge amounts of money from Murdoch have changed the game, and many would say for the worse. The recent buy-up of all the rights to cricket tests involving England has produced an angry response, just as the England win in the Ashes has led to a resurgence of interest in the game. Inevitably, the Sky channels have also resulted in a dash to the bottom of the barrel in television standards. With channels only supported by advertising revenue, the rise of reality TV, makeover shows, lifestyle programmes and even tarot card reading and "psychic" channels has been relentless. This is to ignore the distortions of Murdoch's ventures overseas, especially the nature of his notorious Fox News channel.
Through all this, Murdoch claims that he is resented by the BBC and other certain parts of the establishment. This is more or less based on how Murdoch has waged war against the BBC in his newspapers ever since he first bought into this country. He doesn't believe in the licence fee or public service broadcasting. That takes money away from his hands. As for the establishment forces against him, the Labour party which once hated him is now entirely in his pocket. It is widely alleged and believed that Blair decided to change his mind on having a referendum on the European constitution because Murdoch told him unless he did, the Sun and Times would once again support the Tories. Blair meekly obliged, only for the French and Dutch voters to reject the treaty and save his bacon.
Put simply, Murdoch is a megalomanic. He seeks and craves power. He pays very little in tax (He became a US citizen for this purpose). He now controls one of the most powerful media empires in the world, able of smearing anyone which gets in its way, and it has in its pocket many of the world's politicians. Yet this interview shows just how pathetic this man is. He isn't content with what he has, and he blames others who've dared to oppose his manipulation, conservative values and bottom of the barrel journalism for it. In reality, he's an old man who in ten years will most likely be dead. His empire will crumble, and his so-called legacy will be forgotten. Like Blair, he seems obsessed with history. And like Blair, I think history will judge him harshly.