Rewarding pure greed.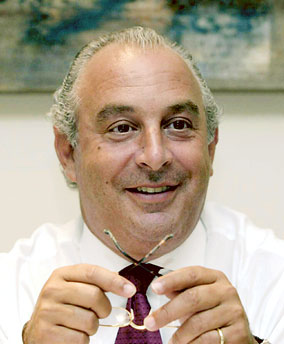 While the main controversy over the Queen's birthday honours list will be that the police man behind the Forest Gate raid, Andy Hayman, has been awarded a CBE for his response to the 7/7 attacks,
there's another two or three awardees that are less than deserving of their relative honours.
Of those, Philip Green is the one that will anger the most. A bald oleaginous cunt of the highest order,
he paid himself £1.2 billion last year.
Oh, and he paid it to his wife Tina, who lives in Monaco, so he avoided that nasty business of having to pay tax on it. That amounts to more than the 11 million citizens of the African state of Malawi earned last year. Green is spending his money well though, it has to be said.
He bought a portrait of fellow entrepreneur, fellow tax dodger and fellow cunt Mohammed Al-Fayed, the one who alleges that MI5 and Prince Philip murdered his son and daughter-in-law to be, who was of course also carrying his grandchild.
He also purchased one of Madonna's tasteful gold Versace bags, presumably so when he has sex with his wife he can put it over his head and save her the indignity of looking at his face.
Also awarded a knighthood is Stelios Haji-Ioannou, owner of low cost airgroup EasyJet, and as a result one of the contributors to climate change. At least he was more graceful in accepting it than Green:
"I'm not sure at this stage that I deserve an honour which is usually reserved for those with a lifetime of business achievement," he said, adding that he wanted to accept the award in the spirit of entrepreneurship.
You're right. You don't deserve one.
Finally in the business category, John Sutherland, chairman of Cadbury Schweppes also receives a knighthood. Apart from peddling junk food, Cadbury Schweppes has also been trying its hardest to pay as little tax as possible into the UK's coffers.
It took the UK to court over its demand for £8.64m from Cadbury Schweppes subsidiaries in Ireland, and partially won its case.
It was also involved in the case of Marks and Spencer, who took the UK to the European court of Justice over not allowing companies to deduct foreign losses from its UK tax bill
, something which a small number of other European states allow. Private Eye estimates that the effect of the group litigation orders over the franked investment income tax rules could cost the UK exchequer £5bn, or the equivalent of just slightly less than 4 more Green paychecks. As "Sir" Digby Jones, another knighted pork trougher said of Sutherland:
He has always maintained the Cadbury tradition of balancing business success with social inclusion and corporate responsibility all over the world."
Corporate responsibility in this case translates as giving as little money as possible to the tax authorities, and fighting to get a nice lump sum of it back by suing them later.
As with all honours lists, there's an idiot who shouldn't be getting one who was dreamt up by some civil servant who rather likes him for some odd. Last year it was Gordon Ramsay, the man whose only benefit to society has been the spread of constant swearing (yes, I know this post is rather full of it) and opening shitty restaurants. This time it's Gary Rhodes, another chef, who by coincidence is also a wanker with a suitably big mouth, but with a ludicrous haircut thrown into the mix.
It has to be said that most of the honours do go to the deserving, who have given years of service either to the state or to those around them. It's spoilt by those whose only benefit has been encouraging greed and lethargy.