Weekend links.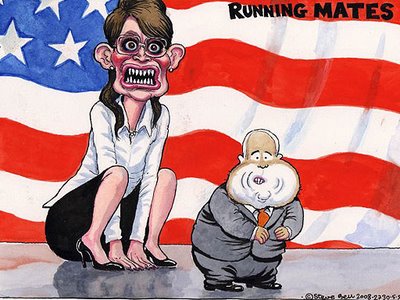 Domestic:
Bloggerheads - The Daily Mail responds to the "Julie Moult in an idiot" meme
Unity - Rounding up the peasants on the Lib Dem MP John Hemming
David Semple - Weighing in on the windfall energy tax
Lee Griffin - You can be a feminist and oppose choice, actually
Independent - Is the party over for UKIP?
Paul Linford - New Labour's prophets of doom

Chris Dillow answers this week's questions
Pollyanna T - Unseating Gordon Brown may be Labour's last chance
- says the woman who previously thought that Gordon Brown was Labour's best chance
Grauniad - Carol Ann Duffy responds in verse
,
brilliantly
, to the censoring moron who succeeded in getting one of her poems removed from GCSE English anthologies
US Presidential stuff:
Ed Pilkington on Sarah Palin's history in Alaska
Dave's Part - Sarah Palin: the British right learns how to love again
.
The ghastly Jon Gaunt also added to the hubbub with his paean to Palin
, on how wonderful it would be if we had politicians like her.
Lenin - No, we can't
- on the general rubbishness of the whole campaign
David Semple again - Town vs Country in the US election
Freemania - Majoring in soundbites

Political Punch - Palin needs time before she can answer questions from the media
. Presumably she'll need the same time to acclimatise to becoming president should she and McCain be elected and something unfortunate happens to him.
Shuggy's blog - On class, prejudice and culture wars
Labels: weekend, weekend links, weekend round-up